PC, PS4 & Xbox One
4 Years Ago
August 10, 2018
We Happy Few
Release Date
The anticipated game We Happy Few is already released on PC, PlayStation 4, Xbox One, PC (Early Access) and Xbox One (Game Preview) in the USA and UK.
PC
PC (Early Access)
PS4
Xbox One
Xbox One (Game Preview)
PC
PC (Early Access)
PS4
Xbox One
Xbox One (Game Preview)
Show Full List
Buy Now
We Happy Few is the tale of a plucky bunch of moderately terrible people trying to escape from a lifetime of cheerful denial. Set in a drug-fuelled, retrofuturistic city in an alternative 1960s England, you'll have to blend in with its other inhabitants, who don't take kindly to people who don't abide by their not-so-normal rules. Set in a retrofuturistic 1960s, you will find a city ravaged by war and rebuilt by delusionally happy people. Everything appears to be happy in Wellington Wells, including the roads, the people, and its omnipresent television personality, Uncle Jack! However, it's a beautiful world on the brink of collapse. You will discover the history of this world, and how it came to be just so beguilingly happy. We Happy Few is about surviving in and escaping from a procedurally generated world, where you must learn to hide in plain sight. If you act out of turn, or you're not on Joy (the local happy pills), the locals will become suspicious and will rapidly turn your frown upside down! Forcefully. You will need to practice conformity, stealth and combat if you want to survive long enough to escape.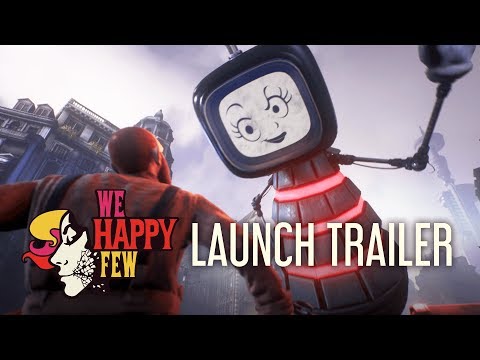 https://youtube.com/embed/UGRHLmBNO_w,https://youtube.com/embed/CR50PJUWm_M,https://youtube.com/embed/iKidXQEgUMU,https://youtube.com/embed/cc67_BrCdPc