IFC
3 Years Ago
October 31, 2018
Stan Against Evil Season 3
Release Date
The tv series season Stan Against Evil Season 3 is already released on IFC in the USA and FOX in the UK. The upcoming FOX release date in the USA and IFC release date in the UK is to be announced.
FOX
IFC
October 31, 2018
Confirmed
FOX
November 6, 2018
Confirmed
IFC
Show Full List
Buy Now
Stan Against Evil Season 3
TV Series Season
IFC's original horror comedy Stan Against Evil will return for Season 3 on Wednesday, October 31 at 10PM. The series stars John C. McGinley as the curmudgeonly retired police sheriff Stan Miller and Janet Varney as Evie Barrett, the current sheriff of Willard's Mill determined to wipe out the demons that plague their quaint New England Town, along with a slate of all-new guest stars. Season 3 picks up immediately after the events of the Season 2 finale, with Stan and Evie back in Willard's Mill dealing with the consequences of Stan traveling through time to save his dead wife Claire. In doing so, he inadvertently opened a portal between the Land of the Living and the Land of the Dead... allowing evil forces to truly take over the town and even some of its inhabitants. Although always the skeptic at first, Stan must work with Evie to once more save the town - even if it means making a literal deal with the devil.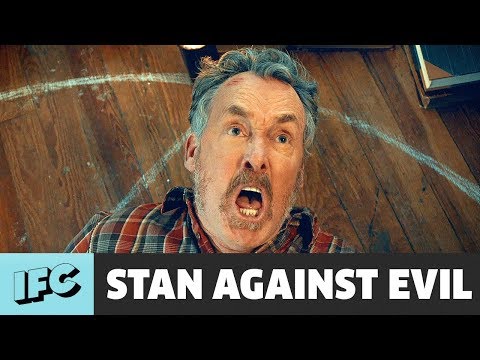 https://youtube.com/embed/1zqAeRH4ACs