Comedy Central
3 Years Ago
August 13, 2018
Ronny Chieng: International Student Season 1
Release Date
The tv series season Ronny Chieng: International Student Season 1 is already released on Comedy Central in the USA. The upcoming Comedy Central release date in the UK is to be announced.
Buy Now
Ronny Chieng: International Student Season 1
TV Series Season
Comedy Central summer series, Ronny Chieng: International Student, will premiere as the #1 brand in comedy's first-ever app exclusive original series. Beginning Monday, August 13, fans can binge-watch all seven episodes of the half-hour scripted television show, Ronny Chieng: International Student, which will be available to stream exclusively on the Comedy Central App. In the series, which was co-written by Chieng (The Daily Show with Trevor Noah), Ronny plays a Malaysian student who's come to Australia to study law. He's smart, driven and competitive, which would make him the perfect law student, if he actually wanted to be a lawyer. As viewers follow Chieng from his first day on campus to the final exam of semester, he'll encounter binge-drinking Australians, pompous blazer-wearing private school kids and hyper competitive anti-social Asian students who want him to act "more Asian." A genuine outsider, Ronny is suspicious of any group that wants him as a member - be it the rowdy Australians, the Mahjong playing Asians or the blueblood... idiots. Blunt, barbed and not afraid to cut through the B.S., it's not long before Ronny is at odds with most people on campus.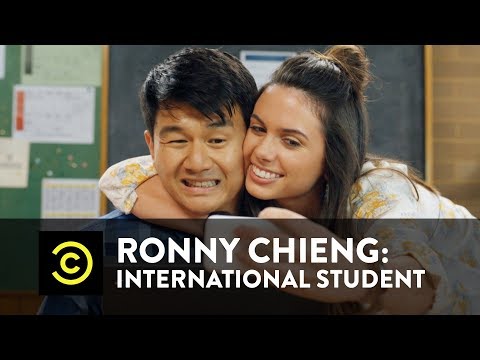 https://youtube.com/embed/S-D6zjBgyxk