PC
7 Weeks Ago
April 4, 2023
Filthy Animals: Heist Simulator
PC Release Date
The game Filthy Animals: Heist Simulator is already released on PC in the USA and UK.
Buy Now
Filthy Animals: Heist Simulator
Game
Listen up ya Filthy Animals, you work for me now and I got a job for ya. You might be thinking it's just an ordinary heist - get in, get out with the cash, and hopefully stay in one piece. Well, I got a newsflash for ya, numbnuts - this ain't no ordinary heist; the vault is on the upper levels, the security system uses lasers, the guards have shotguns, you're gonna have to escape via helicopter, and to top it all off, you're a bunch of mutant morons who barely know how to walk. But them's the breaks, right? Get in there and put those new bodies I gave ya to good use and get me my money. This could be the start of something great, and if not, well, there are plenty more animals in the sewer. Filthy Animals is a chaotic multiplayer heist game for 1-4 players. Take on the role of mutant animals following the orders of Tony, the criminal mastermind of the operation. Bumble through a series of heists starting with a convenience store and a bank, gradually unlocking more challenging robberies.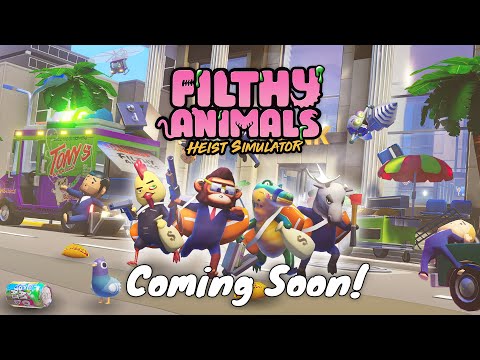 https://youtube.com/embed/YwoZXJETcjs,https://youtube.com/embed/vraXJI4jw1c