Playstation 3 & PS Vita
5 Years Ago
October 6, 2015
Dengeki Bunko: Fighting Climax
Release Date
The game Dengeki Bunko: Fighting Climax is already released on Playstation 3 and PlayStation Vita in the USA and UK.
PS3
PS Vita
PS3
PS Vita
Show Full List
Buy Now
Dengeki Bunko: Fighting Climax
Game
Celebrating the '20th Anniversary of Dengeki Bunko' French Bread (UNIBEL, Melty Blood), along with the Sega and ASCII Media Works, are bringing us another exciting 2D fighter straight from the arcade to our Sony consoles! The title will include characters from Dengeki Bunko's extensive line of light novels such as Sword Art Online, Shakugan no Shana, and Durarara! going toe-to-toe on stages based on Sega franchises. Expect to see even more of your favorite characters sprinkled in amongst the roster as we get closer to release! Dengeki Bunko: Fighting Climax gameplay will feel familiar to any fan of anime/2D fighting games. The game uses a standard eight-way joystick and four buttons: A (weak attack), B (medium attack), C (strong attack), and D (support, to summon support characters) as well as standard dash, back dash, and two levels of jump - and of course the available combos. The console version will be shipping with "Dream Duel" mode which allows players to enjoy conversation events between the characters, online "Network" mode, as well as unlockable extras like costume colors, themes, and individual illustrations and animations for characters!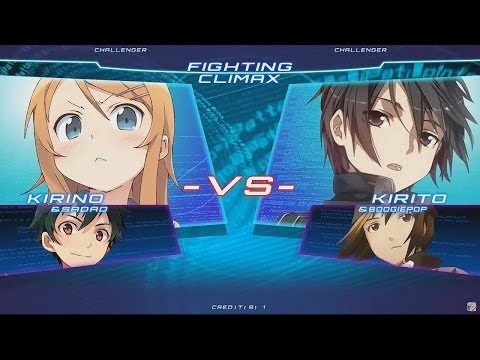 https://youtube.com/embed/ciBCGvaOM-w,https://youtube.com/embed/jigyLJcIXoI