PC, PS4 & Switch
4 Years Ago
July 17, 2018
Chicken Assassin: Reloaded
US Release Date
The game Chicken Assassin: Reloaded is already released on PC, PlayStation 4 and Switch in the USA.
Buy Now
Chicken Assassin: Reloaded
Game
Play as Mean Mcallister, the baddest chicken in town, the living embodiment of what would happen if you combined Rambo, Foghorn Leghorn, and a bottle of hot sauce together. Spritzel and his evil henchmen have kidnapped your beloved Candy, and you must punch, shoot, and slice your way to Candy's heart in this outrageous story with over-the-top humor that boasts a myriad of colorful enemies and visually stunning levels and environments. Warm up your clicking fingers and prepare to give your hand an intense workout as you battle a slew of eclectic adversaries, and encounter special bosses in this frenetic, action packed game! As you progress, you can upgrade Mean with various fighting styles and skills, access an arsenal of weapons to dole out punishment, and customize clothing that boosts your stat attributes.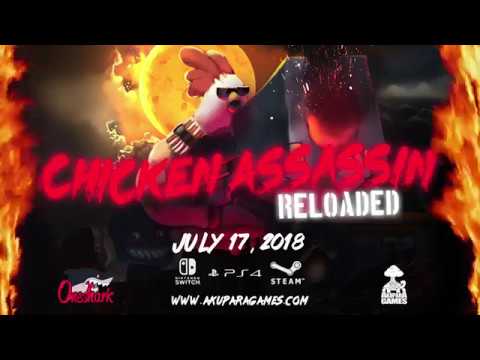 https://youtube.com/embed/Ah_Xc776Ty4