Adult Swim
4 Years Ago
July 9, 2017
Apollo Gauntlet Season 1
Release Date
The tv series season Apollo Gauntlet Season 1 is already released on Adult Swim in the USA. The upcoming Adult Swim release date in the UK is to be announced.
Buy Now
Apollo Gauntlet Season 1
TV Series Season
Summer heats up on Adult Swim with the new animated series, Apollo Gauntlet, premiering Sunday, July 9th, at 12:15 a.m. E/P. Continuing its commitment to fans to premiere fresh content online, viewers can binge the entire new series in advance on AdultSwim.com beginning Friday, July 7th. Inspired by He-Man, Mystery Science Theater 3000 and the work of David Lynch, self-taught, independent Canadian animator Myles Langlois created Apollo Gauntlet, a quarter-hour animated adventure comedy series set in a futuristic medieval society. The series centers around Paul Cassidy, an ordinary cop on Earth, but when the evil Dr. Benign transports him to another world, he becomes a new kind of hero. With the help of a magical suit and a set of talking gauntlets, he's able to fight crime exactly the way he wants...and he'll do it as APOLLO GAUNTLET!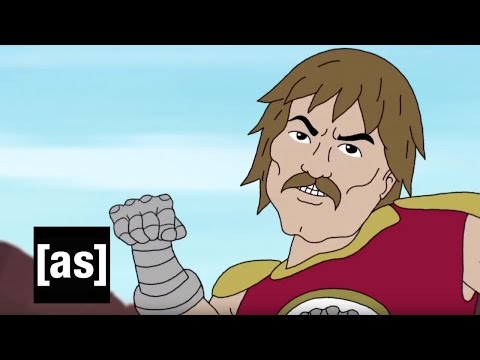 https://youtube.com/embed/QMJvzESaIyo