Adult Swim
Q4 2021
This Quarter
Teenage Euthanasia Season 1
US Release Date
The tv series season Teenage Euthanasia Season 1 upcoming Adult Swim release date in the USA is confirmed to be Q4 2021. You can watch this tv series season on Adult Swim in the USA this quarter.
Pre-Order
Teenage Euthanasia Season 1
TV Series Season
Set in a mildly apocalyptic near-future, Teenage Euthanasia centers around the Fantasy Family and their inland Florida funeral home, Tender Endings. The cast of characters include recently undead Trophy Fantasy (voiced by Maria Bamford); her teenage daughter, Euthanasia "Annie" Fantasy (voiced by Jo Firestone); Annie's Oedipus-complex-stricken Uncle Pete (voiced by Tim Robinson); and Annie's "old country" immigrant grandmother Baba (voiced by Bebe Neuwirth). As a teen mom, Trophy ran away from home, leaving Annie behind to be raised by her Baba and Uncle Pete. Fifteen years later, Trophy finally returns to Tender Endings...as a corpse, for burial. But when a bolt of lightning strikes Baba's homemade embalming fluid, and one of Annie's tears magically bring Trophy back from the dead, Trophy finds herself a resurrected woman with a second chance at unplanned parenthood (and a variety of quasi-useful death powers).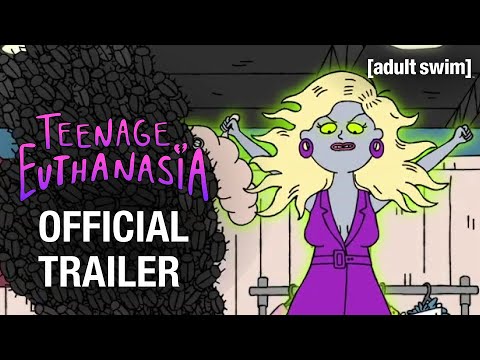 https://youtube.com/embed/6T8HAs-5oX4