PC & PS4
3 Years Ago
July 12, 2018
Koihime Enbu RyoRaiRai
US Release Date
The game Koihime Enbu RyoRaiRai is already released on PC and PlayStation 4 in the USA.
Buy Now
Koihime Enbu RyoRaiRai
Game
The war ladies of ancient China are back in Koihime Enbu RyoRaiRai, an overhaul of firm fan-favorite Koihime Enbu, released on Steam in 2016. This updated version not only bolsters the roster to 14 warriors and eight assist characters with Chōryō and her strategist Kaku adding a new layer to the fighting action, but it also represents the much-requested international debut of the series on the PlayStation 4! Chōryō, or Zhang Liao, was historically respected as a great general, and if you believe RyoRaiRai, also a heavy drinker from Kansai. Nonetheless, it's her name that is at the heart of "ChoRaiRai", a literal warning that 'Chōryō is coming!'. This historical phrase goes someway to telling of her bravery on the battlefield and now you can fighting game fans have the chance to recreate that legend when the game releases this Summer! Koihime Enbu RyoRaiRai is the culmination of extensive updates to the arcade game to rebalance and provide an even an experience even truer to the original's concept of being a universally accessible fighter.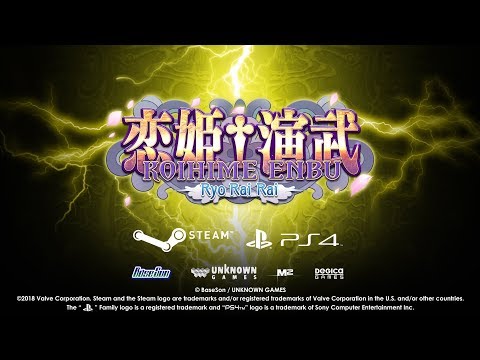 https://youtube.com/embed/ybwhGopOLgo